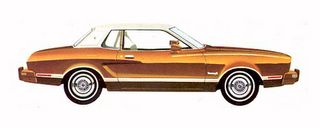 I loved the Mustang II and don't know why some Mustang purists didn't
The Mustang II introduced in 1974 to replace the poor selling Full Size mustang of the early 70's was built on a slightly modified Pinto platform, and shared major mechanical systems. Some Mustang fans hated this car. But did you know that it sold very well? Nothing could match the numbers set by the Original Mustang in 1964-1965, but the Mustang II sales figures speak for themselves. Although in 1974 there was no V-8 offered, this car flew off the dealer lots. In 1975 the 302 V-8 returned and although seemingly underpowered at 150 hp, check the V-8's offered in other cars of the time, and you will see that compared to what was out there, it wasn't bad. Combine that with the substancially lighter car and the Mustang II could be a decent performer.
When I went to Nashville last year I noticed a small group of Mustang II's in the coral and their owners seemed very proud of their cars and from what I could see, they were entitled. History was not kind to this little Mustang, but consider this, this car evolved into the Fox chassis Mustangs of 1979-1993 and we all loved them. If it was cool enough for Charlies Angels, isn't it cool enough for you?
Click on header for link to Mustang II Network